Enter a Kaleidoscope of Queer Speculative Fiction
Stories take us beyond the bounds of our own lives—into new worlds and new situations. Perhaps most importantly, they invite us into new identities. Through the characters we temporarily become, we open ourselves to a rainbow of experiences.
Speculative fiction gives us new lenses through which to explore our world and ourselves, and a deeper understanding of what makes love and connection so amazingly diverse.
In the second All Worlds Wayfarer anthology, immerse yourself in 30 unique stories featuring LGBTQIA+ protagonists in sci-fi, fantasy, and horror.
Open yourself to Prismatic Dreams.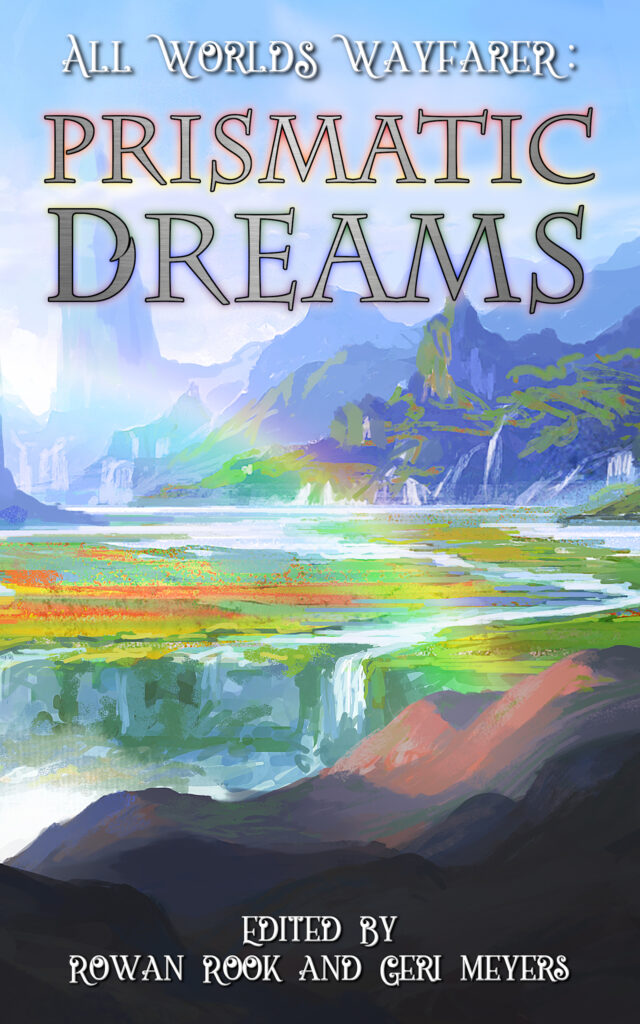 Release Date: 06/01/22
Authors & Stories
Tea With Elaine by K.G. Delmare
A Shadow of Light by Isabel Yacura
Stormcalled by R.K. Nickel
Apocalypse Sasquatch by Joanne Askew
Fluorescent Clouds, Neon Rain by Daniel Santos Marques
For Esnan by Frances Koziar
Resistance by MM Schreier
The Green Star Bar by Julie Cohen
The Trunk by Lamont A. Turner
Change by DJ Tyrer
Like the Stars by Rowan Rook
Sailing Blind by Kathrine Machon
Different Ways by Tabitha O'Connell
Compilation Error by Eilidh Spence
Come and See by Carmen Peters
The Nature of Stones by Stewart C Baker
The Moon Rabbit by Jennifer Lee Rossman
Hunters by Max Turner
The Sword of Death by EA Robins
The Wolf's Den by J.B. Polk
Of Feathers and Flowers by Xan van Rooyen
The Bone Merchant by Nicola Kapron
LV2RD by Shenoa Carroll-Bradd
Mishael's Love by Geri Meyers
What's Ours is Ours, What's Hers is Everyone's by L. Reed Walton
Let Our Song Be About Love by Regina Jade
A Banquet in Turquoise and Indigo by Hesper Leveret
Mirror, Mirror by Alexis Ames
The Only Lesbian in Space by Erin Edwards
Evergreen by Shirley Romano
Available Now
Prismatic Dreams is available in hardcover and digital editions at most major online booksellers, including:
Considering checking with your local indie bookstore or library, as well; Prismatic Dreams is available at a wholesale discount for retailers through the standard IngramSpark catalogue.